Introducing SAMS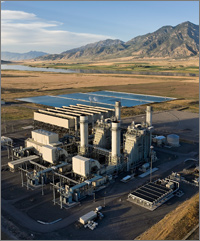 Many industrial sectors face significant challenges associated with retiring, non-performing assets. The U.S. Power industry is on track to retire tens of thousands of megawatts of electric generation capacity, resulting in hundreds of generating units that require long-term management, divestiture and redevelopment activities. Corporations involved in manufacturing and industrial production have continued to reduce operating footprint within the U.S., moving production assets offshore requiring divestiture of retired facilities.
Strategic Asset Management Services, Inc. (SAMS) was formed to provide Owners with Solutions and Alternatives to best address these emerging market realities.
SAMS is a privately owned company that has been specifically designed to provide an owner of a non-performing asset a partner in the decommissioning, deconstruction and redevelopment process. SAMS is uniquely qualified to assist the power and industrial sector to monetize their underperforming asset portfolio, while eliminating long-term asset management costs and liabilities associated with these facilities.
SAMS's business approach is to work with an owner to purchase retired, non-performing assets. Typically these facilities are considered impaired properties, often presenting significant entitlement and redevelopment challenges. We are well capitalized with $100M in committed investment capital earmarked for this specific type of project. Our platform consists of several options that provide an Owner with choices regarding risk and reward sharing during this process, ranging from direct asset purchase to joint venture partnership to allow an owner a share in site redevelopment reward.
To provide technical expertise and sufficient financing in imaginative ways to acquire, repurpose and return to highest and best use retired Power and Industrial properties.
SAMS is comprised of a group of niche industry specialists, supported by significant institutional engineering and investment capital capacity. This Company and team provide execution certainty to the utility and industrial facility owner, with a focus on preserving our client's community and reputational legacy. With combined experience of over 150 years, this team has safely and efficiently provided site management and property redevelopment services to some of the nation's leading power and industrial firms.
SAMS Business Objectives:
Maintain a world class health and safety organization, program and results;
Eliminate Owner asset management costs/liabilities associated with retired assets;
Provide options for Owner participation in redevelopment project profit share;
Provide project execution certainty;
Protect an Owner's legacy in the communities they serve.