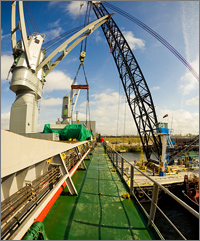 We highly value our long term client relationships and reputation within the industries that we serve. Our ability to assess, define, value and complete a complex decommissioning, deconstruction, and redevelopment project protects that relationship – ensuring that a SAMS project is a project that an Owner can be proud of, a project that will be completed as initially planned and presented. The SAMS team is committed to site purchase and redevelopment, while preserving our client's positive legacy in the communities they serve.
To that end SAMS has the combined capabilities to support these projects from inception planning through final completion. The SAMS team can provide the following capabilities for project support:
---
Financial Strength
As a redevelopment partner with a focus on site acquisition SAMS represents a well-capitalized organization capable of developing significant capital from debt and equity markets to fund site purchases, provide execution capital and ensure positive project cash-flow.
Key Capabilities
Access to global, institutional capital markets
Access to debt or equity level financing
Financial analysis expertise
Financial analysis and reporting tools
Current $100 million dollar investment commitment from Fortress Investment Group (NYSE: FIG)
---
Safety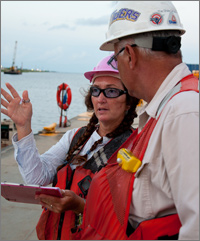 SAMS involvement as an operator for these projects requires a world class health and safety program. The quality and effectiveness of this program will ensure the safety of employees, suppliers and subcontractors, clients and the general public. SAMS and supporting companies maintain excellent programs and safety statistics.
Key Capabilities
Health and Safety planning and development
Job Safety Assessment/Hazard Analysis (JSA/JHA)
Risk Assessment & Risk Mitigation Strategies
Construction Safety Professionals (CSP)
Project/process safety audits
Integrated Safety Management Systems (ISMS); Behavior Based Safety Programs (BBS); Beyond Target Zero (BTZ) Safety Strategies and Work Culture
---
Planning and Engineering Design
As an owner or owner's partner focused on completion of complex decommissioning and redevelopment projects proper project planning and design is critical to project success. SAMS provides a national network of planning, management and technical resources that are brought to bear to accurately define and sequence project tasks, including determination of environmental conditions and economic valuation.
Key Capabilities
Economic analyses
Ferrous and non-ferrous metals quantification
Equipment liquidation surveys
Environmental assessment
Permit development, modification and acquisition
Scope development
Feasibility studies
Project engineering and design
Construction sequencing and engineering
---
Environmental Assessment and Remediation
Impaired properties require accurate determination of environmental conditions, as well as effective engineered or constructed solutions. SAMS has an industry leading team of full-service environmental assessment and remediation professionals. This expertise allows us to safely and cost effectively implement quality solutions to turn environmental liabilities into marketable assets.
Key Capabilities
Environmental hazard assessment
Risk assessment/risk based criteria development
Hazardous Materials surveys
Site environmental characterization
Remedial Investigation/Feasibility Studies (RI/FS)
RCRA corrective action process planning, assessment and completion
Asbestos abatement
Lead abatement
PCB abatement
Remedial design and construction
Waste Mitigation and Reduction Strategies and Design plans
Contaminated soil remediation
Storage tank removal/closure
Slurry wall design and construction
Radiological and LLW decommissioning capabilities
---
Heavy Industrial Decommissioning and Demolition
The SAMS team has a proven track record regarding large scale D&D projects. We have completed total and partial demolition projects at operating and fully retired facilities for Power, industrial and manufacturing clients. Our demolition team has a safety record unrivaled in our industry with over 10 years of performing D&D services without a single safety incident. In addition to top quality project managers, superintendents, operators and technicians SAMS owns a fleet of specialty demolition equipment, designed and constructed specifically for these project types.
Key Capabilities
Total/partial facility decommissioning and demolition
Surgical & Selective demolition
Implosion & Blasting
Metals valuation and salvage
Material recycling and equipment sales
Asset optimization
Site work and final grading
---
Property Redevelopment
The SAMS team approaches property redevelopment in a unique manner. We are dedicated to providing a market-based exit strategy and can provide multi-sourced financial options specific to the needs of our clients and partners. We firmly believe in allowing the market to dictate highest and best use (HABU). SAMS is not biased toward any specific type of development, instead we employ experts that can identify the best use of a property to ensure highest value after entitlement. Industrial facilities such as Power generating stations will be typically considered impaired properties at the point of sale. The property redevelopment team at SAMS has extensive experience with complex redevelopment projects including those involving brownfield sites. Due to our comprehensive understanding of the risk profile for projects of this nature SAMS provides an owner with increased certainty that a property transfer will close, and that a redevelopment project will be completed.
Key Capabilities
Real estate market analysis and HABU assessment
Comprehensive understanding of synthetic financing programs
Development of a regional activity center (RAC), Community Development District (CDD), or Community Redevelopment Area (CRA) – increase access to public funding
Brownfield tax credit/grant programs
Ability to market entitled sites across development markets
468B Trust development
Cost Cap Insurance programs